We make events into movies.
A movie needs a story. You'll get your story and that is our promise. Not just a film with the days events but a film with a touch of a thousand feelings. Life isn't boring you know. You'll get yourself something that'll hopefully never grow old.
Seeing is believing, feeling it is faith.
Our Movies
Check out our Facebook and Instagram for our videos!
Our Clients
Its not our first day on the job, we've been at it since the year 2000, we are still learning, still improving and welcome all kinds of feedback.We are nothing without our clients after all.
QIST BRIDAL MAWAR PRADA SYUKRAN INTERNATIONAL SHEKINAH MONTESSORI AIA INSURANCE
Our Price
To accommodate to the unique types of events, we offer flexible rates so you only pay for what you want.
$150 / Hour
$650 for 10 hours project (subsequent half and hour is charged at $80 / 30 mins )
Editing Fee: $350​
Every project includes 2 DVD copies of project work regardless of edited or non edited projects.
Contact Us
Don't be shy, you're one call away from your favorite memory.
Wan - 97703106 / wan.wedsmedia@gmail.com
Powered by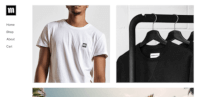 Create your own unique website with customizable templates.